Travel and Transport Website Widgets
You can harness the power of the Travel Search Engine on our site (powered by Rome2Rio); which shows and compares thousands of plane, train, bus timetables, and contrasts them to driving, ferry and walking routes from door to door. This gives someone travelling all the options, and probably ideas they never had.
This is a very powerful way for you to make it easier for people to come to your location. No matter, if you are in business selling things, getting people to go on rides, renting accommodation or renting vehicles, putting on a performance, having conferences, or doing anything that causes people to leave their homes.... the easier for people to get to you, the more that will come.
This is why we built our selection of website widgets. These are boxes that you can install on your own website very easily; you pre-fill (embed) in your address so when your visitor types their start location and that is all we need to know how to plot the all forms of transport search from where they are, to where you want them to be.
Three different widget sizes to choose from
Depending on the space available, you can choose from our three widget designs.
Large Size Widget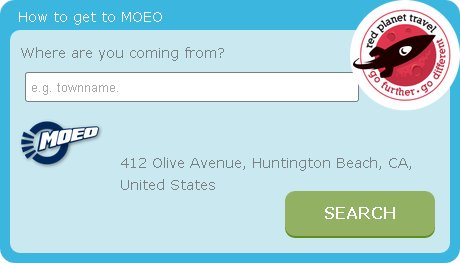 This is the largest widget and really stands out.
It can have your logo placed on it and has plenty of room for a long address.
This logo might be good for event that have lots of visitors, and since you can add the logo, might be useful on a website that has many companies listed e.g. a directory or a site describing 2 or three events, as each widget will have a specific logo associated.
If you are interested in using multiple copies of the widget, or want one where embedded Destination address changes, no problem just contact us.
Medium Size Widget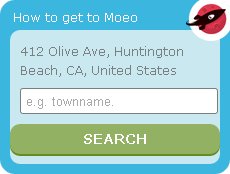 This is the medium sized widget and is our general-purpose option.
It is sized similar to a advertising box, and will seamlessly integrate into many website style.
There is room to show your company name and address.
Small Size Widget

The smallest widget is for mobile and/or responsive websites where space is at a premium.
With this widget the address is not shown nor any instructions, so we suggest adding the call to action in your own words giving direction to your website visitors. E.g. Enter where your coming from into the box then click the Red Planet and let them show you how to get to us!
Example page
For normal companies and organisations we recommend you install the widget on your Contact Us or About Us page.
This is what your page might look like.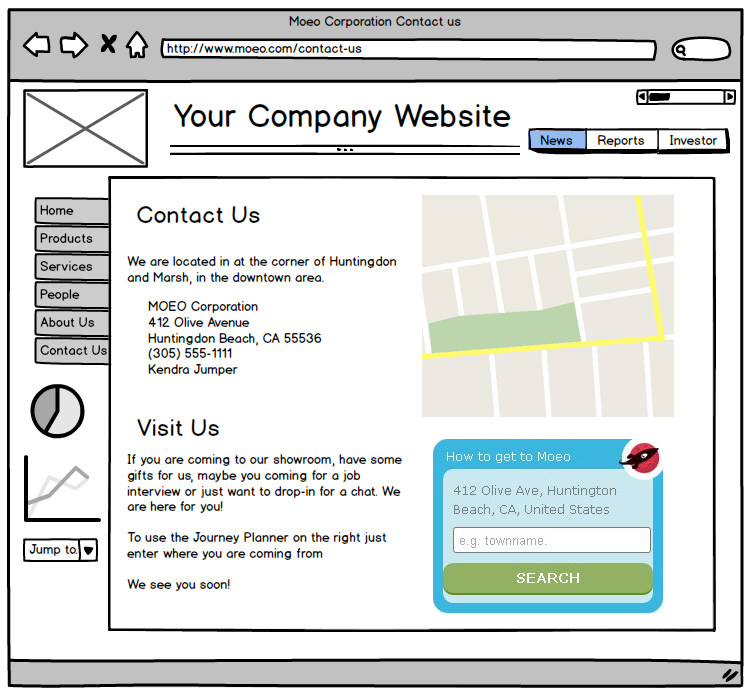 Further Usage
If have many locations, or move around e.g. you are a promotions manager looking to promote the gigs of your band, or you are a soccer team on tour on a different continent... Maybe you are a multi-national with hundreds of branches.
It is certainly possible to add or change the address within the widget. You (or your web designer) can have a look at the code of the widget and see where the address is placed. Just change that to any valid address, and the widget will be updated. If you need any help with this, then please drop us an email to contact@redplanet.travel and we'll be happy to assist.
Next Steps
Go ahead and make your Widgets.
If you want to help people get to you within an email, on Facebook or Twitter or have very little room on your website; then please consider our Link Builder or Email Robot for normal links.