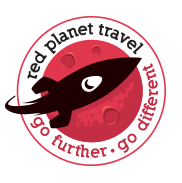 Contact: Karl O'Meara


Tel: +(34) 638278986
email: contact@redplanet.travel
FOR IMMEDIATE RELEASE: ALL MEDIA
TRAVEL HEALTH INFORMATION GOES GLOBALLY CROWDSOURCED
MDtravelhealth.com has been acquired and integrated into Red Planet Travel
CAMBRILS, Tarragona, Spain. January 2nd 2017 -- MDtravelhealth, which has been featured on CNN, lonelyplanet.com, the Center for Disease Control (CDC) and the Library of Congress, contains over 300 pages of detailed Travel Health information from countries around the world, travellers illnesses, special needs and infectious diseases. It receives around 100,000 visitors a month in web traffic.
Medical professionals are now invited to contribute their local knowledge of the situation in their region to this online knowledge-base; the information can be used by travellers to determine their Travel Health needs when visiting that region.
This is the product of a year-long project to integrate the Travel Health information from MDtravelhealth.com into the MDtravelhealth channel on the Red Planet Travel community website using a multi-user authenticated Wiki-style editing system.
Following the retirement of Dr. David Goldberg after 15 years of developing and maintaining his travel health website, the information management has been opened up so it can be kept up-to-date by medical professionals from around the world.
Medical practitioners can update pages relating to their specialist knowledge using a simple Wiki-style system that incorporates historical versioning controls, to permit multi-user editing. They can also enter their medical practices' details and services that they offer in a searchable Clinic Finder system using a tag-based keyword searching algorithm. Real-time Travel Health alerts can be posted by contributors that alert travellers to outbreaks, important events or other considerations in the region where they plan to visit.
Travellers can read the available information, research suitable clinics prior to travel and also post Travel Questions in a Question, Answer & Solution based system on the site.
Find the new system at https://redplanet.travel/mdtravelhealth
###
If you'd like more information about this topic, or to schedule an interview with Karl O'Meara, please call +(34) 638278986 or email contact@redplanet.travel