Fantastic video from the Andorran Tourist board to kick off this year's winter marketing.
Showing off the strengths of the Andorran offering the tourist board have made this video demonstrating: Amazing mountain views, superb skiing facilites (even heliskiing if you want it) in Vallnord and Grandvalira and the Caldea thermal spas, in a multilingual nation (Catalan, Spanish, French) with tax free shopping in the heart of Europe.
The "Suited Gent on Andorra Slopes"-themed advert is something Ms Opulanza has been dreaming about for a long time, well here it is, someone has done it. The one minute appetizer also features scenes from Avenida Meritxell - the main shopping hub, Lopti-K (www.opticas-andorra.com/), Viladomat (http://www.viladomat.com/) and another store I can't place maybe it is Options+ (www.viamoda.ad)? If you know where the final scene is filmed, please tell me!
But first you need to get to Andorra, right? How are you going to do this?
Andorra by Flights and Coach
Andorra is an interesting subject for Red Planet Travel as it has many options for getting to it, many as valid as each other. Currenly (Nov 2014) the airport in La Seu is not open yet, it has been "on the verge" of receiving scheduled traffic for some years now.
So until then, Andorra is almost equidistant between several international airports: Barcelona, Toulouse, Perpignan, Carcassone, and most recently Lleida. The largest: Barcelona (see flights) and Toulouse (see flights) have transcontinental flights, the others are mainly domestic and intra-european.
Lleida (see flight options) is the closest in terms of time and distance, but there are not many airlines fly there, then Carcassone (see flights) which is one of the regional airports that has benefited most from the lowcost carriers's promotional fares - if you can fly to Carcassone you may well get the best deal. Then Perpignan (see flights).
The only problem with these two French airports is the road is very twisty if you follow the sav.nav. route. Better to come via the payage in France or check in winter the eastern entrance into Andorra is not closed due to snow, as you can come via Spain where the route is never blocked.
The main flying routes are to Barcelona and Toulouse and in particular from El Prat airport (BCN) as there are the most regular bus services with Direc Bus and Novatel (the Direc Bus is not actually the "Direct" one, but goes via Barcelona Sants station - great if you not in hurry and want to see a bit of the city: it goes past the Plaza Espana and the bull ring).
Andorra by Driving: Car Hire
The other main way people come to Andorra is by driving yourselves.
This possibly has several benefits; you can take your time and take in the amazing views as you climb up from the plains into the pyrenees (snow capped for most of the year), if there is more than one of you it might work out good value, you can choose when to travel, and finally, a car is recommended once in Andorra - to see all the sights.
Make sure they know you going to Andorra, as the tyres need to be suitable in winter, and don't bother with the sat.nav. directions if you coming from Barcelona: Just follow signs for "A2" or "Lleida" when you come out of the airport for about 1 hour and then you start to see Andorra signs. There is an AP2 road also, but you don't want that one.
If you use the sat.nav. it will take you via the tunnel de Cadí which is no quicker but you get hit with loads of tolls.
The clue is all the service buses go the way we recommending - via a town called Ponts, not Berga. See the Steps and Google Street View images below to guide you. Hire car companies charge for the sat. nav. by the day - if you coming for a week or two, this adds up. Spend 10 mins studying the guide below and you might consider skipping the hire car sat.nav. as once you get to Andorra the roads are very simple, particularly if you know your north from south.
If you have a mobile phone or bring your own sat.nav. put in "Via Ponts" and you should be ok. The intructions below are for confident drivers, ideally with some experience of Spanish roads!
Step 1A: Terminal 1 Start
If coming from the new terminal T1 there is only one main road, soon you will see this sign and your first glimpse of the "Lleida" town name that you need to follow to get out of Barcelona. It is known in Castillian Spain as Lerida, but here in Catalonia it is always spelt like you read it there and don't bother trying to pronounce it unless you are a Catalan. If you do have to say it, maybe you get lost, try saying "Yea-da" in like you would in English, actually... if you get lost, just ask for Andorra!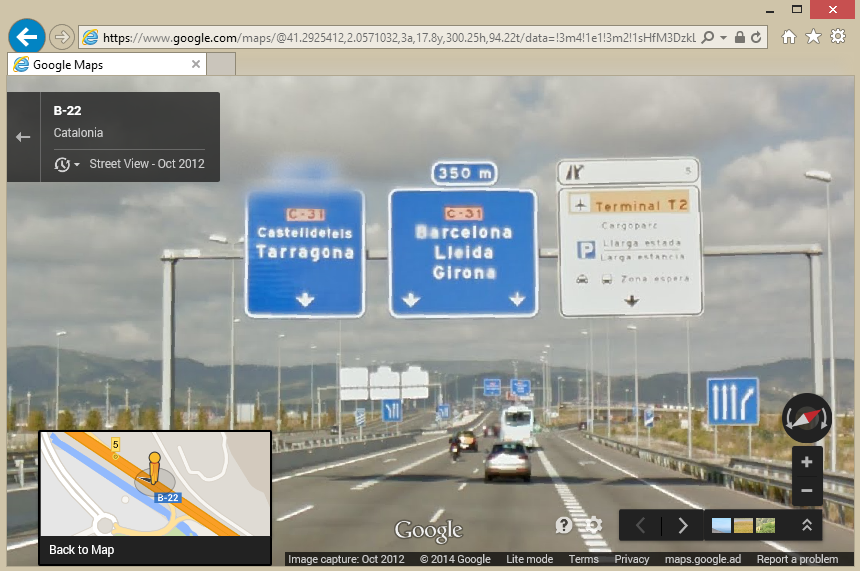 Step 1B: Continuing Terminal 1
See the Lleida word in the image below... yes, you turn right here.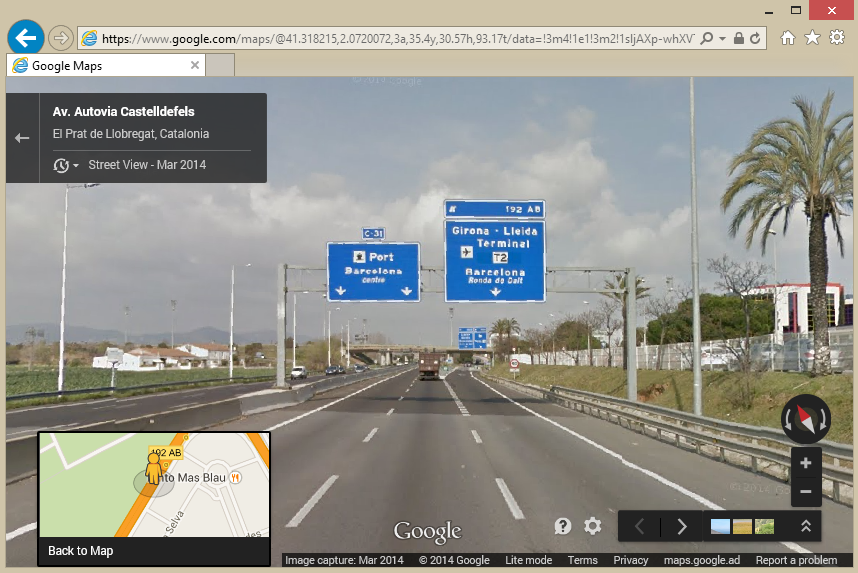 Step 2A: Terminal 2 Start:
If coming from the old terminal or T2 as it is called now, drive out of the airport and here you see the Lleida road as in the image below.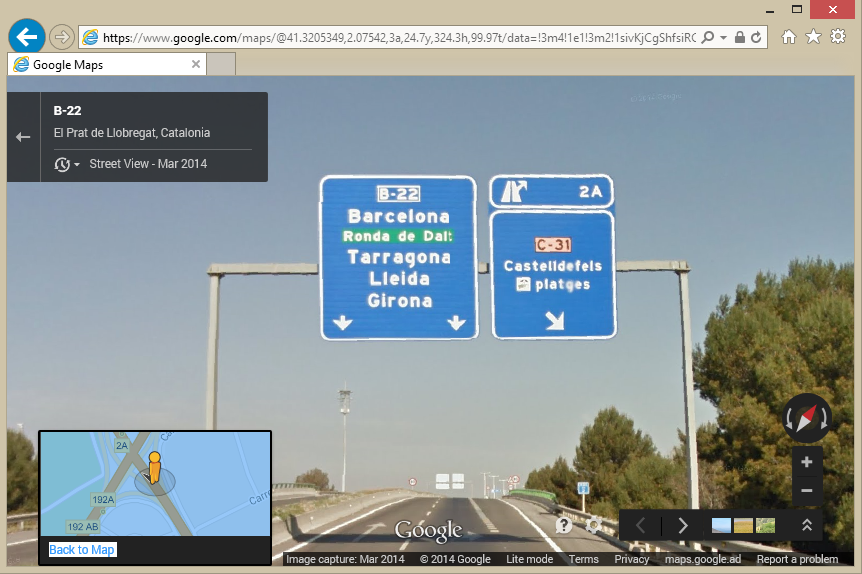 Step 3
Both other routes from either terminal have merged now. See Lleida again in the image below? Keep in right lane as you join another road.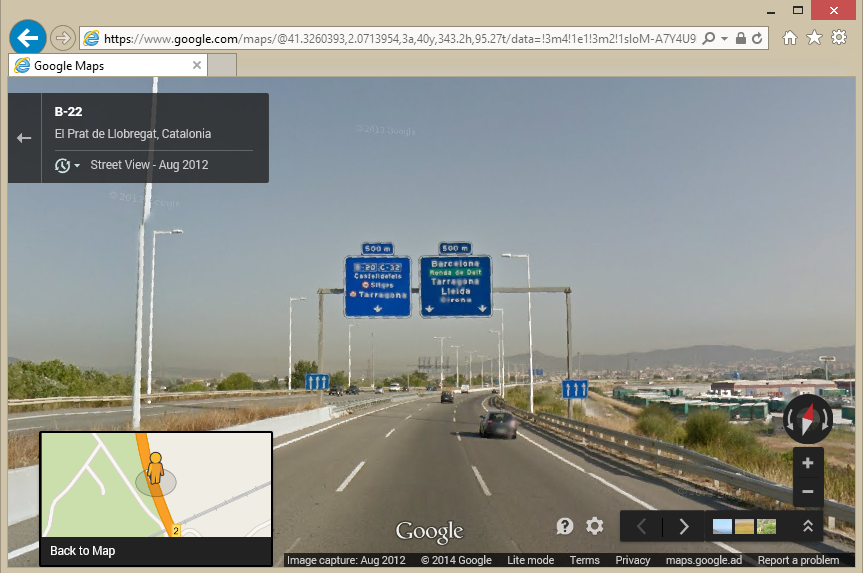 Step 4
OK. See the Lleida again? Good. Also note the blue box with A2 written in it in the image below.
The down arrow on the sign means get in the lane under the arrow.
So at this point it is middle lane of road.
If you have a few spare brain-cycles while being undertaken and overtaken by mad drivers note the 1000m marker and that there is also a turn off at 800m i.e. before you want to get off.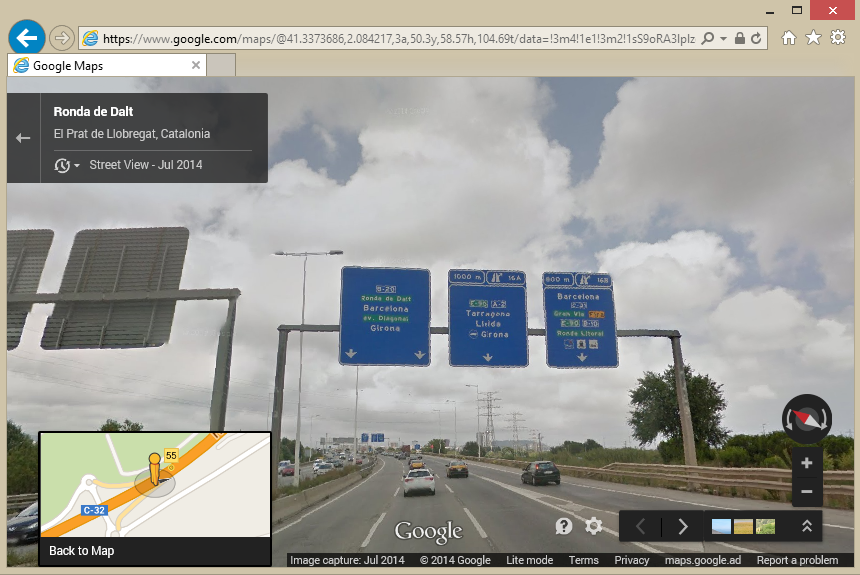 Step 5
Still looking good. Stay in the middle lane see Lleida still? You have Barcelona to the left and right as show in image below.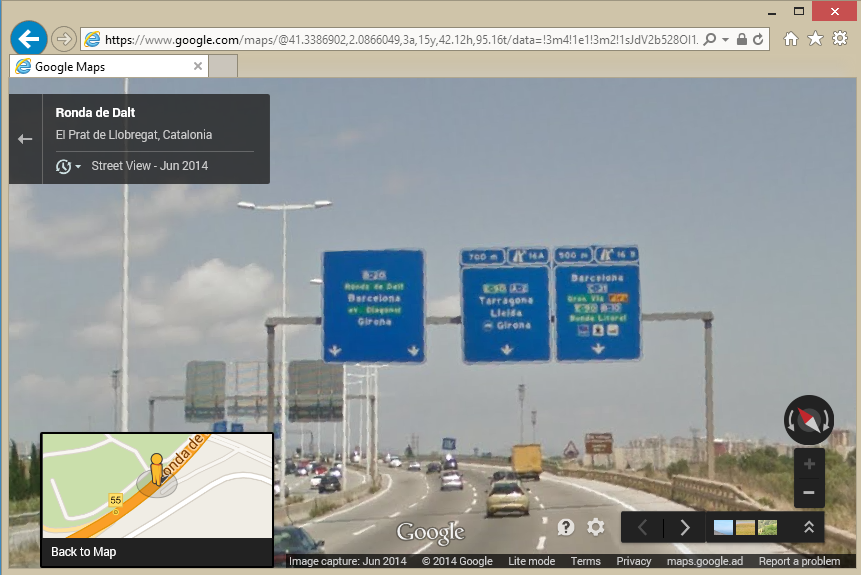 Step 6
OK, that's the peel off road (image below) that heads into Barcelona City - don't take that one. You following Lleida - yeah!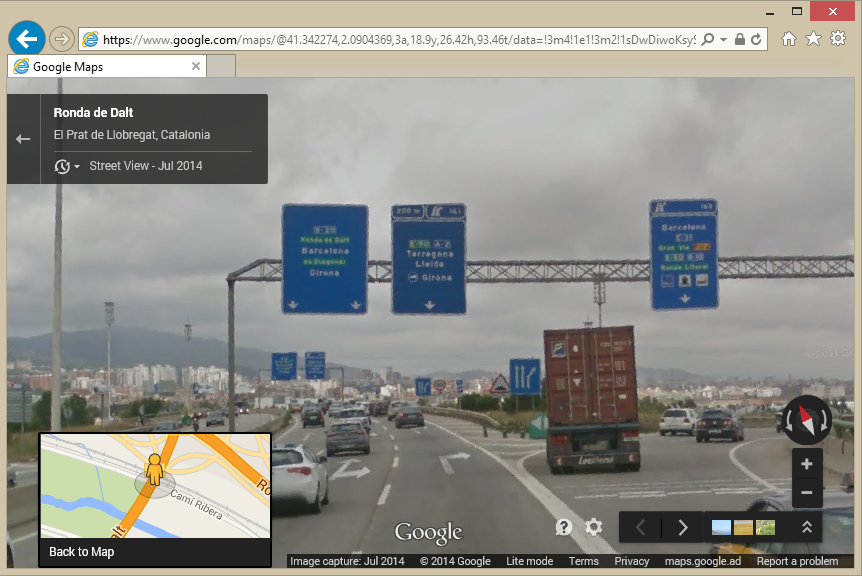 Step 7
So then 200m later we see A2 (in the box - see image below) and our friend Lleida. Peel off to the right.
It is a tight right hander and you will join the A2 itself as you pass under the road you've just been on.
Get on the A2 and stay there.. it will be a long time.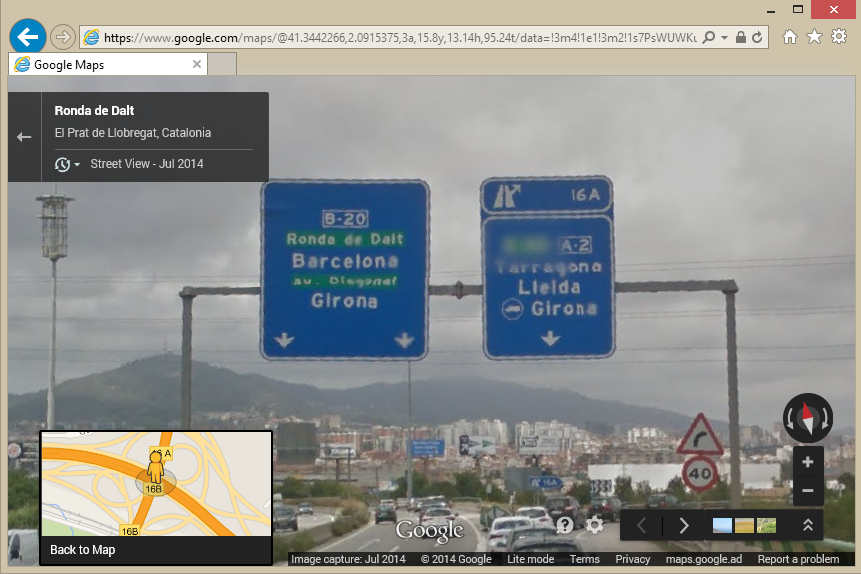 Step 8
Confirmation you on the A2 and heading Lleida in the image below.
YOU ARE ON THE A2 - you will be on this road for an hour. Try to stay on it.
Sometimes you will see roads with signs on for our "Lleida" above or alongside roads running on the left or right - Ignore them! The signs are for people on those roads - not you.
You need to concentrate on not crashing. Only the signs on your bit of the road, mainly above you - concern you.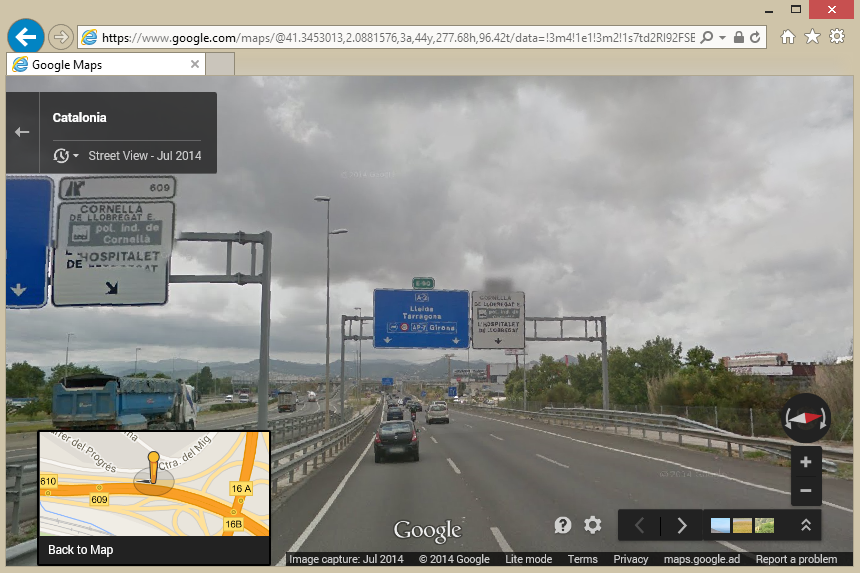 Step 9
You can't fall asleep yet - this part of the road it is easy to wind up coming off if you don't watch it as some lanes turn completely off. Count the number of lanes and the white down arrows to see which lanes are exiting. See in image below there are three lanes going straight and the 4th lane is turning off.
Stay on it A2 and Lleida.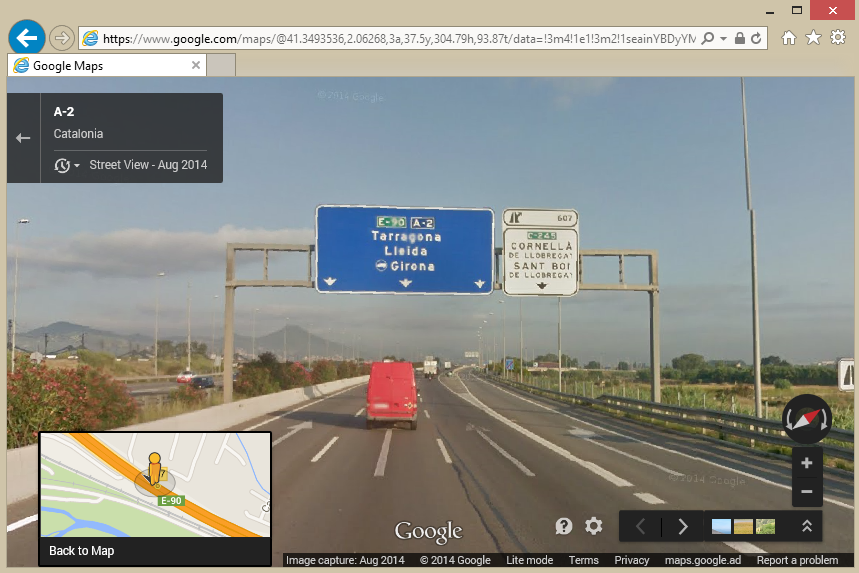 Step 10
DANGER! If you're daydreaming, come round in a panic when you see the Lleida word... you may wind up on the AP2 - bad. See how it says Lleida on that on too?
You want the old fashioned A2 and Lleida. Middle lane.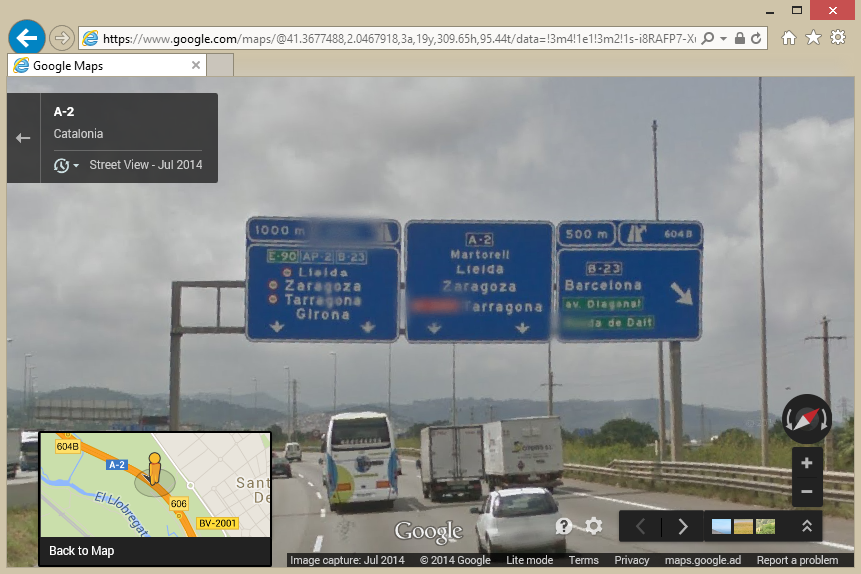 Step 11
The motorway splits. You just want to keep following that boring old A2 Lleida.
No fancy Lleidas with Red Circles - wrong way, and you have to pay: double bad news.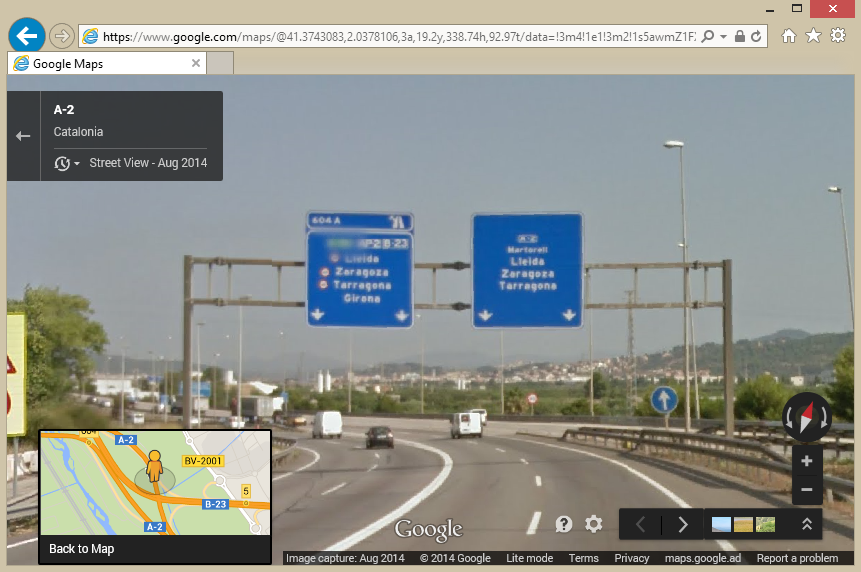 Step 12
Then a final opportunity to cock up as you let your mind wonder off again... see Lleida AP2 and the Red Circles on the right (in the image below), and and dramatically make a fast exit.
Wrong.. A2 and Lleida is what you want.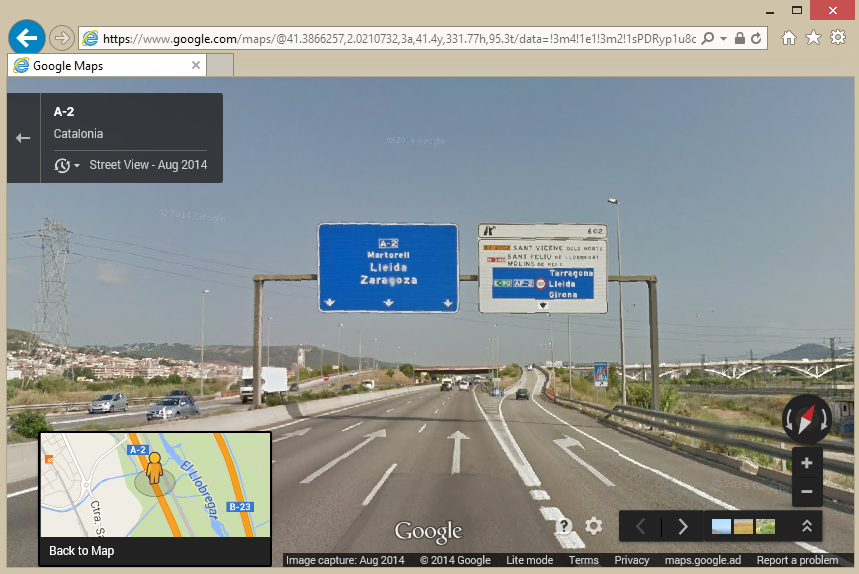 Step 13
Signs like this one below, is confirmation you on the A2 towards Lleida.
Good work!
Enjoy the ride - set alarm for 1hr at least. You don't need to change any road. There's lots of great dual lanes bends and a big old tunnel as well as an ever changing landscape to look forward to.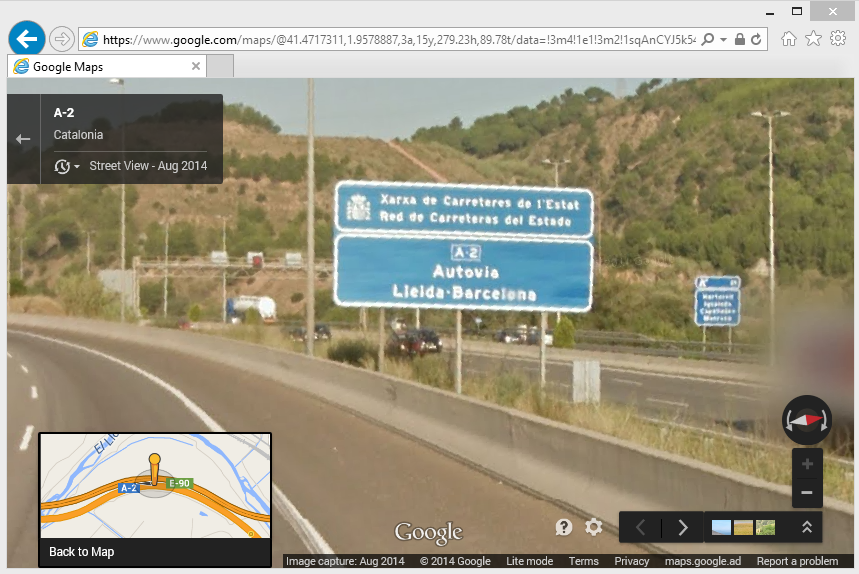 Step 14
You will see a sign for Andorra near "Jorba" as shown in the image below. Don't take it!
You are looking waiting for north Cevera - sign post "Cervera Nord". There is a "Cervera Sud" - that is your alert call. Cervera always reminds me of the Spanish word for beer: Cerveza, so look out for "beer town".
If you do come off here, it is not the end of the world - there are no tolls, but the turn ahead is better.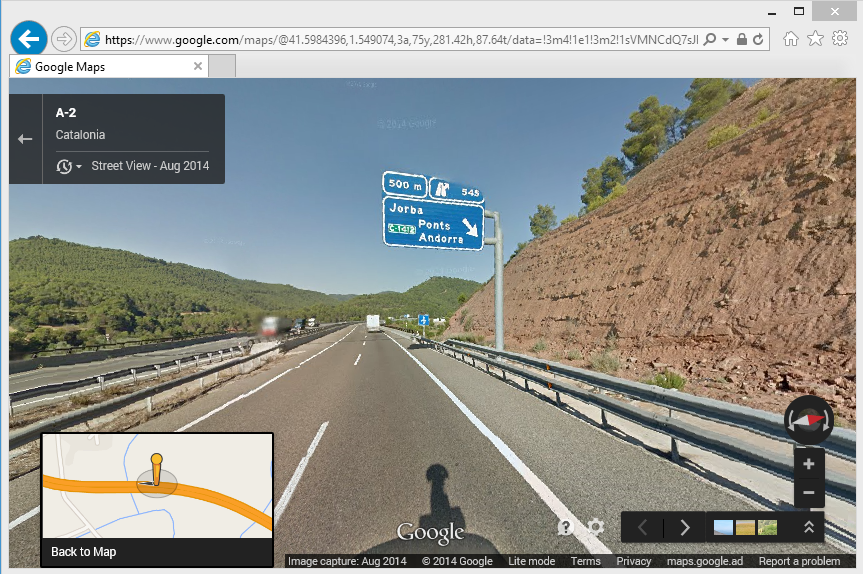 Step 15
Finally off the A2 take the Andorra turn (show in the white sign board below).
It is plain sailing now all the way as it is single lane roads.
Watch for maniacs overtaking and if in doubt at any roundabout go straight on. Occasionally the signage is not there, but it is north, north, north from here.
See you in Andorra soon!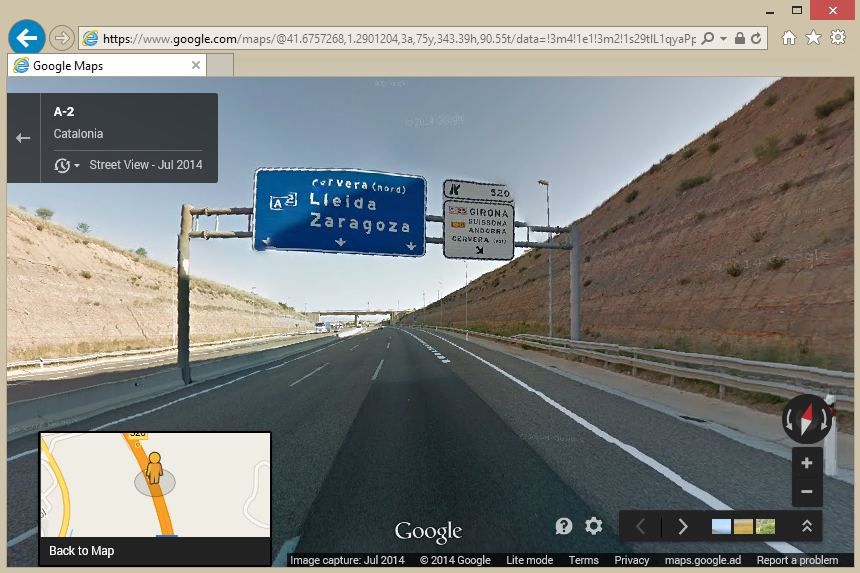 Step 15
Once you leave the A2 it is still about 2hrs to go, so look for a nice cafe to take a break - the town of Ponts is about half-way and has plenty of choices, but there are small pretty towns all the way up. And finally you will reach the border - you did bring your passport right?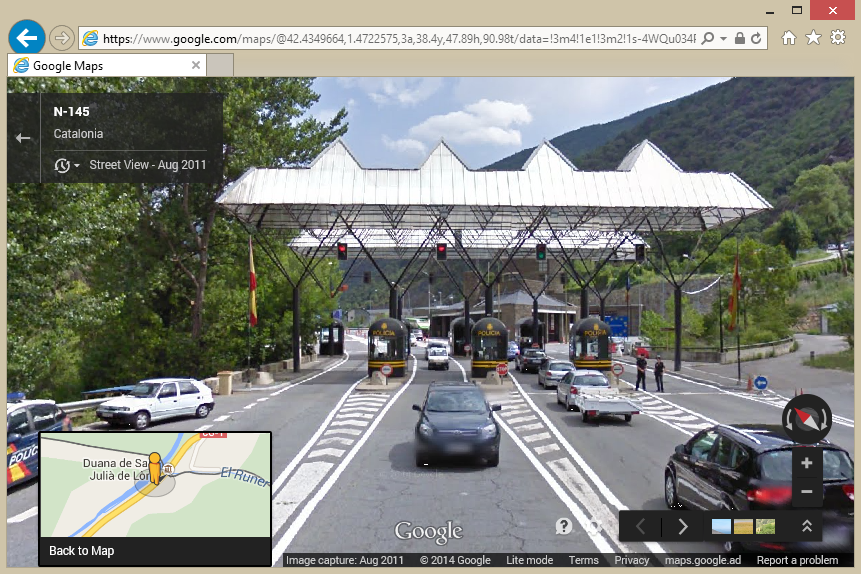 This is the scene at the border. There may well be a queue to get in.
Andorra by Rail
Rail afficionados are a slightly out-of-luck; although if you are a bit flexible you can do it.
There is an overnight sleeper from Paris which winds up in Carol La Tour - the station there itself is worth a visit but unless you being picked up or prepared to pay a fortune for a taxi - it is a no go.
There are no hire car places or much else in the place where the station dwarfs the town.
Better to get off in Foix or Toulouse and take a car or L'hospitalet and bus from there. From Perpignan and Barcelona you can only get to Carol La Tour, and then you'll face the same problems.
To try out our journey planner and see what you find http://redpl.net/ad
The author of this article is Karl O'Meara of Red Planet Travel. He is an ex-pat and loves living in, and is very privileged to be able to be in Andorra.